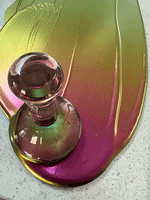 Our paints are all handcrafted with pride in our studio in Melbourne, Australia. After hand mixing and mulling each batch of paint on a glass slab with a glass muller we hand-pour the paint into half pans in three to four layers over filling them so you get the maximum amount of product. We make our own inhouse binder using gum arabic, vegetable glycerine and clove oil. We don't use any fillers so our paints are all highly pigmented. As a result of our processes and our ingredients our paint is highly concentrated in pigment and produces saturated colours that are smooth, buttery and a pleasure to paint with. We then label and hand wrap each pan, ready for you to purchase individually or as part of a set.
Beyond exquisite!

these paints are beyond exquisite, they are even more shimmery in person. I had a decent play with most of them and it didn't even make a dent in the half pans so I can see myself getting a lot of use out of them. I loved how they were all individually wrapped, was like a whole lot of presents for myself. Connie's customer service was also brilliant, very friendly. You will not be disappointed if you order.

Nissa James
High Quality Paint

I've been so impressed with the quality of these beautiful paints! The pans are really full and activate right away with just a touch of water! The intense colour is really impressive and smooth and easy to paint with. I love combining them with other non shimmer paints too to experiment with, they really add such an interesting dimension to my artwork. I'm really impressed with the range of colours too, I've not found such a huge range of colour options in shimmer paints before, which means I can use them in all aspects of my artwork, not just gold and silver as I did previously.

Jessie
Simply fantastic

These paints are absolutely fantastic. 
The pans are topped right up, so there's plenty of shimmery goodness that will last no doubt for ages. The paints themselves activate easily and are high in pigment. The quality is seriously high. Add to all that amazing customer service, beautiful packaging, reasonable postage cost and speed - to put it simply, great stuff, highly recommended

Gabi
Absolutely gorgeous!


Shimmer drops is becoming one of my favorite and go to paints. I was so excited for the legendary set and it does not disappoint! Just like all the other paints produced, the paints activate quickly and the color payload is amazing. So vibrant! The pans will last a long time as you don't have to use much to achieve your goal. The dual chrome quality is incredible. Just opening the tin I got so excited as there were swatch stripes on each pan tag. 110% worth every penny! Thank you for making such a fantastic product!

Lauren U
Just so IN LOVE

I am just so in love with these pigments! So much careful detail to color intensity, quality, sheen and masterfully crafted with love. I feel eternally grateful to have the opportunity to work with these special paints! <3

Leah Shanker
Absolutely gorgeous!

The Night Gems set of six colour-shift half pans are so pretty! I'm enjoying moving the swatches back and forth to see the gorgeous changes; I've recently swatched them on black Stonehenge watercolour paper. They're very easy to re-wet and use. They're going to add a delightful element to my watercolour artwork, journal, and cards. Fast shipping, pretty packaging and a free dot card really added to the whole experience. Thank you! :)

Anne L
A blessing to paint with


It's hard to put into words how much fun it actually is to work with this watercolor paint. I have ordered multiple colors already and just placed another order, because all of them are absolutely amazing and look stunning wet and dried. The quality of shimmerdrops is consitently on a professional level which makes me sometimes wonder just how much work it has to be to produce such well made colors. You can definitely tell that Connie puts in so much passion and love, so if you see a color you like - go and buy it! You will never regret it <3

Carina F
The perfect paints!

Shimmer drop paints are AMAZING!! The pigment is rich and they're easy to use, they're gorgeous and are idea for all water color applications! I've place 3 orders with them already and will keep ordering! They're absolute perfection!

Kathryn Zeimis
Buy some, you won't be sorry

Have recently bought 2 tins. Set my alarm to get the mythical tin range. These paints are just sublime and so very beautiful. So pleased they are Australian made. Really lovely Connie ❤️❤️❤️ Buy some, you won't be sorry. 🦄🦄

Kerrie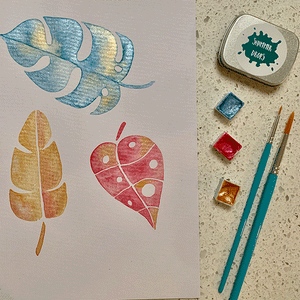 Activate quickly
Being artists ourselves, we've created fast activating paints that not only meet our standards but far exceed them. When you dip your wet paintbrush into our paint, a few seconds after It's been wet, you will really notice the quality of our formulars! No need to wait two to three minutes for our paint to activate! Our paint recipes have been developed over several months. Paints have been made to activate quickly and produce saturated colour.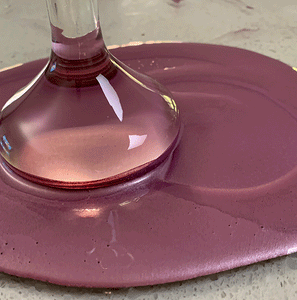 Vegan Paint
Every batch of artisan paint is hand mulled at our atelier using professional grade ingredients for artist quality results. Our vegan binder is created in-house and combined with maximum pigment and no fillers for optimal colour saturation. We used gum arabic, distilled water, vegetable glycerine and clove oil to make our very own vegan binder.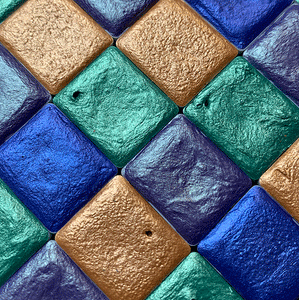 Unique Colours
Pigments are combined to produce unique colours. Our shimmer paints are available in a wide range of colours. Our watercolour paint formulas have been developed over months to produce unique and exciting colours with their ability to catch the light. We offer a wide range of ever popular colours combined with limited release batches giving our artist community an extensive palette to select from.
When you purchase our handmade watercolour paints, you are supporting a small business and artists such as yourselves.
Use our metallic watercolours to add dimension to your abstract watercolour painting, our shimmer paints to create depth in your landscape paintings and our colour shift for extra movement to your hand lettering.
Shimmer Drops handmade watercolour paints are not available from art supply stores. They are made in small batches at our bustling atelier and delivered directly to yours