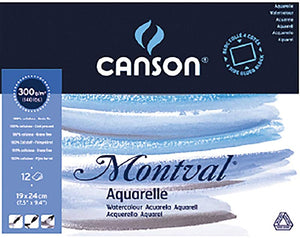 Canson Montval Aquarelle Watercolour Paper
Fine quality watercolour paper which is also very easy to use, Montval was originally designed by the famous early 20th century painter Gaspard Maillol. Manufactured by Canson, it has developed over the years, becoming a popular choice among artists around the world.
This acid free 100% cotton paper is very durable and can withstand multiple washes and erasing, so corrections are not a problem if necessary. We believe it's important for artists to be able to experiment freely and try things out in order to explore creativity. And this Montval watercolour paper is exactly right for that. Add this item to your cart and then paint on it with confidence.
Made in France
19 x 24cm (7.5 x 9.4 inches)
300GSM 140LB
Acid free 100% Cotton
Cold pressed
12 Sheets